75 Years of Customer Milestones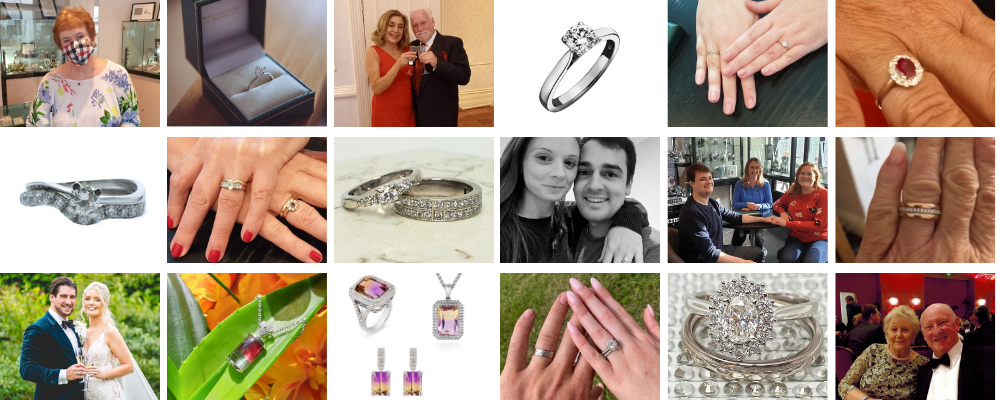 Helping mark your milestones and capturing your special memories with beautiful jewellery has been the driving force behind everything we do here at Warrenders. From celebrating blossoming romance, to touching tributes to those loved and lost, we share just a few of the tender moments we have been honoured to share over the past 75 years.
After falling in love with an ametrine and diamond necklace at our Christmas Champagne Reception, Mike and Margaret came to us excited to commission a full matching set in honour of their 50th wedding anniversary. We carefully sourced perfect matching ametrine stones and set to work creating the designs which were debuted at the couple's anniversary celebrations.
Ever since this couple moved to the area over 30 years ago, they have come to Warrenders for all of their milestone gifts starting with their 25th wedding anniversary through to perfect pearls to celebrate their 30th, a ruby ring to mark their 40th and most recently a beautiful golden piece of jewellery to mark 50 incredible years together.
While purchasing the perfect engagement ring for his partner, one customer told us how he planned to get their young baby to help out with the proposal. He had ordered a special baby grow that was printed with "Mummy, will you please marry my Daddy?" that she would discover when changing the baby. The big moment worked out perfectly, and upon reading the words she turned around shocked to see her partner down on one knee holding out the ring.
We were honoured when Mrs Churms asked us to create a bespoke watermelon tourmaline and diamond pendant, especially when she told us the story behind it:
 

"I had this pendant made using the money left to me by my dear sister who passed away. Years ago I almost bought a beautiful tourmaline necklace and have regretted not getting it ever since."
Young love brings with it many wonderful things, but the money for a dream engagement ring is often not one of them. 20 years after he proposed to his wife as a poor student, our customer decided to surprise her with a beautiful Warrenders engagement ring. It was a heart-warming moment to witness. The happy couple spent the afternoon browsing our collection and chose a stunning three stone sapphire and diamond ring.
One customer told us how her proposal happened while training to become a diving instructor. In a stunning location, her future husband produced an underwater sign that read 'WILL YOU MARRY ME?' all she could do was nod as a beautiful school of fish passed. The couple came to us to have a bespoke wedding ring designed with a subtle wave design incorporated into the band to represent their unforgettable engagement moment.
At Christmas Louis proposed to Jen with a pretty Warrenders promise ring. The happy couple returned soon after for Jen's dream engagement ring which she had been secretly admiring in our window for some time - some things are just meant to be!
We created a beautiful bespoke ring for our customer Joy that displays, not only the love her parents had for one another, but also the very special place they will always hold in her heart.
"When my beloved dad died seven years ago, my mum let me have his wedding ring which Warrenders resized for me. This year, at the grand age of 90, my mum passed away and I have been wearing her wedding ring too. But something wasn't right. Mum and Dad were inseparable in life and I wanted them to be together again so I decided to have their wedding rings melted down and redesigned. The gold of Mum and Dad's rings has been moulded with a diamond eternity ring and formed into one - so that my fabulous Mum and Dad are together again for eternity. I wear the ring all the time and smile every time I look at it. I love you Mum and Dad."
To find out more about our 75th Anniversary Plans,
click here.