Coronavirus Policy - April 2021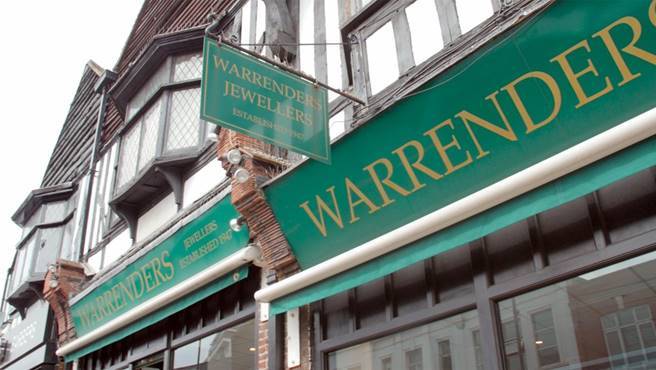 Dear Valued Customer,
WARRENDERS JEWELLERS is mindful of the strain Covid-19 has placed on our customers and our community since March 2020. We are following Government and NAJ (National Association of Jewellers) advice and have put measures in place to reopen the store safely. We look forward to welcoming customers to the store and would like to take this opportunity to reassure you that the health of our customers and staff remain a priority.
Subject to government restrictions the store will re-open on Monday 12th April 2021. Our NEW OPENING HOURS will be:
Monday 9.30am – 5pm
Tuesday 9.30am – 5pm
Wednesday CLOSED
Thursday 9.30am – 5pm
Friday 9.30am – 5pm
Saturday 9.30am – 5pm
Sunday CLOSED
Entry to the store will remain limited and we ask that all customers and staff wear face coverings and continue to follow social distancing guidelines on the premises. In store our team are tasked with practising good hygiene throughout with hand washing, regular hard surface and touch point cleaning, waste removal and use of hand sanitiser. It may take us a little longer to prepare the store between customers and we are grateful for your understanding, cooperation and patience. Jewellery will be sterilised, appropriate PPE will remain in use and we ask for any payments to be made by card wherever possible.
Please do not visit the store if you or anyone you have been in recent contact with are displaying symptoms of Covid-19. Staff with, or living with anyone with, symptoms have been asked not to attend the store. As a business we will engage with the national testing and vaccination programmes to keep our customers and staff safe. If you have any concerns about visiting the store please contact john@warrenders.co.uk.
We are proud to be an independent local business and are incredibly grateful for your support. Now more than ever businesses like ours will need your custom – please shop local and use independent retailers, like us, wherever possible. It is easy to visit Warrenders by car and we recommend using the multi storey car park at Gibson Road, Sutton SM1 2RF which is a five-minute walk from the store. 
If you would like to purchase jewellery or watches from WARRENDERS but are concerned about visiting the store in person there are a wide range of jewellery and watches available at www.warrenders.co.uk. All orders will be sent for delivery within two working days. If you can't see what you are looking for please contact us by email – info@warrenders.co.uk – or request a gift card. Once the store is open you will also be able to make use of our excellent range of jewellery services from repairs to valuations by posting any relevant pieces to us using Royal Mail Special Delivery (with compensation options that cover £500, £1,000 and £2,500) – just let us know if you are sending something to us so we can confirm receipt. Please do not send any jewellery if you or anyone it has been in contact with are displaying symptoms of Covid-19. We can also arrange secure delivery of any repairs or purchases to you (UK wide £10).
In 2020 we committed to donating a percentage of sales to The Royal Marsden and are pleased to announce that with your help we raised £2,350 which will be used to help research the effects of COVID-19 on Cancer treatment. The work carried out by The Royal Marsden touches so many lives and we will continue to support this fantastic charity in recognition of the NHS and all key workers.
If you have any questions about how WARRENDERS JEWELLERS can help you during this time, please get in touch. We wish all our customers the very best of health and look forward to welcoming you soon.
Yours sincerely,
WARRENDERS JEWELLERS.