Tips for taking care of your jewellery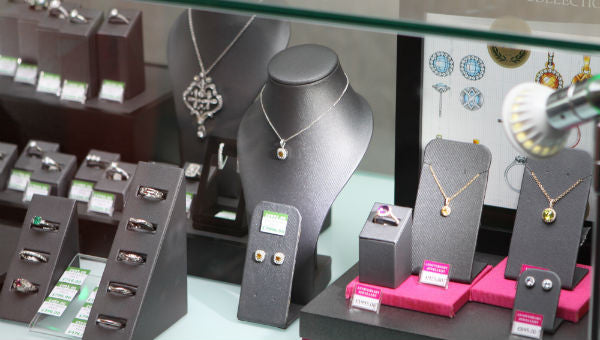 Many factors can affect the condition of jewellery, such as domestic chores, heat and everyday wear and tear. Therefore you should make sure that your jewellery is properly cleaned, repaired and stored to keep it looking its best so it can be enjoyed for years to come.  
General Jewellery Care 
Chores like gardening and washing up can easily harm your precious pieces, so if you are planning to get your hands dirty make sure you place your engagement ring and any other jewellery in a safe place to avoid damage. If however, years of wear and tear do take their toll, we offer a full cleaning and polishing service which will go a long way to bringing back lost jewellery lustre. We have also put together our top tips for at home jewellery care to help keep your pieces in excellent condition.
Gold and silver jewellery can be gently rubbed with a soft, clean cloth to maximise the shine. We also sell impregnated cloths which are able to clean and polish the metal to a high degree.

Silver is a beautiful metal but can be prone to tarnishing. Regular cleaning and polishing with a modern polishing foam restores the original look of silver, but be careful to not be too enthusiastic or you may damage the surface finish.

Jewellery set with gemstones can be brought back to life by soaking in a solution of warm soapy water and gently cleaning with a soft toothbrush. Alternatively, a formulated jewellery 'dip' can enhance the items shine. However, take care to use the correct dip for your piece and read the instructions carefully rinsing thoroughly after use with warm water.

To avoid scratching and tangling keep jewellery carefully stored and separated and all chains fastened.

Certain gemstones are more sensitive to everyday wear and cleaning. Great care should be taken with tanzanite, opal, emerald and pearl. If you are unsure, feel free to come in to the store where our expert team will be happy to give you a demonstration.

White gold items are coated with Rhodium - a metal from the Platinum family, which keeps the metal a bright white. However, this coating is readily attacked by household cleaners such as bleach, which will strip the coating to leave a faint yellow hue to the gold. Therefore, these items will need to be Rhodium plated approximately every six months to a year to keep them looking at their best. 

Antique items need specialist care. Always seek advice before attempting to clean them.

It is a good idea to get your items professionally checked each year. This helps to ensure all stones are secure and prevent any foreseeable problems.

Make sure you have a detailed and up to date insurance valuation of your jewellery. This allows us to work with your insurance company to replace any pieces that are lost, stolen or damaged.
Keeping your pearls perfect
Cultured pearls are particularly susceptible to damage. As they are of organic origin - formed inside oysters or mussels - they are far more delicate than many of their precious gem counterparts and so are vulnerable to chipping and discoloration. There are however measures you can take to protect your pearl jewellery and keep it looking beautiful.  
Always ensure that you use body lotions, perfumes and hairspray before you put on your pearl jewellery. The chemicals in these products can permanently damage the nacre of the pearl so it is key to minimise contact.

After wearing, it also helps to clean all pearl jewellery with a soft cloth.

If you really need to wash your pearl jewellery, do so with water and a drop of detergent but avoid getting pearl stud earrings wet as it can affect the pearl cement.

Wetting pearl jewellery can also weaken the silk used to thread pearls in items such as necklaces and bracelets as can everyday wear and tear. The recommended frequency of rethreading pearls depends on many different factors, but once a year is a good rule of thumb.
Ticking along
Watches are hardworking items; they are usually worn every day and are intricate pieces of engineering which keep on running day and night. A little regular TLC can ensure that your treasured timepiece continues ticking for years to come.
As watches endure daily wear and tear, often the first thing to require fixing is the strap. If you have a leather strap, it is usually easy to buy a replacement however metal straps need tightening and a general check-up to ensure the strap is securely attached to the case.

Mechanical watches should be wound in a clockwise direction and it is recommended that this is done at the same time each day. It is best to remove the watch from your wrist to wind as this avoids putting undue pressure on the winder.

Unless the degree of water resistance is clearly marked it is best not to wear your watch in the shower or pool. Water resistance is often misunderstood, for example a watch saying 30 metres on the dial sounds perfect to swim in. However, 30 metres actually relates to the static pressure that the watch can take. If you really need to know the time when you are taking a dip, it is best to opt for a watch with 100-metre water resistance or more.