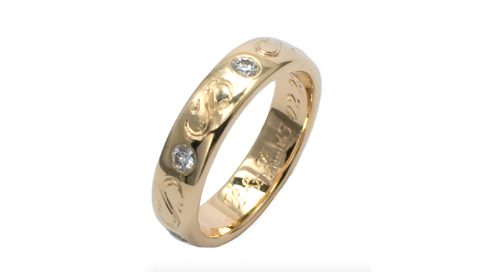 We are delighted to announce that the winner of our #mywarrenders social media competition is the lovely Francesca Todd!
Francesca has been a loyal Warrenders customer for many years and often pops in to our Sutton jewellery store for a chat and to browse our latest collections.
The winning picture was of Francesca's beautiful 25th wedding anniversary ring which was created by us from an old gold wedding band which belonged to her mother in law. Our onsite goldsmith reworked the ring creating a slimmer gold band which was then hand engraved and set with diamonds.
Francesca shared her stunning sparkle on social media along with other Warrenders' customers as part of a new competition we launched earlier in the year. The winner was selected at random and Francesca came in to see us last week to collect her prize of a delicate silver pendant.
Huge congratulations to Francesca! We look forward to seeing her again soon, hopefully wearing her brand new Warrenders jewellery.