New Beginnings - Breathing New Life Into Old Jewels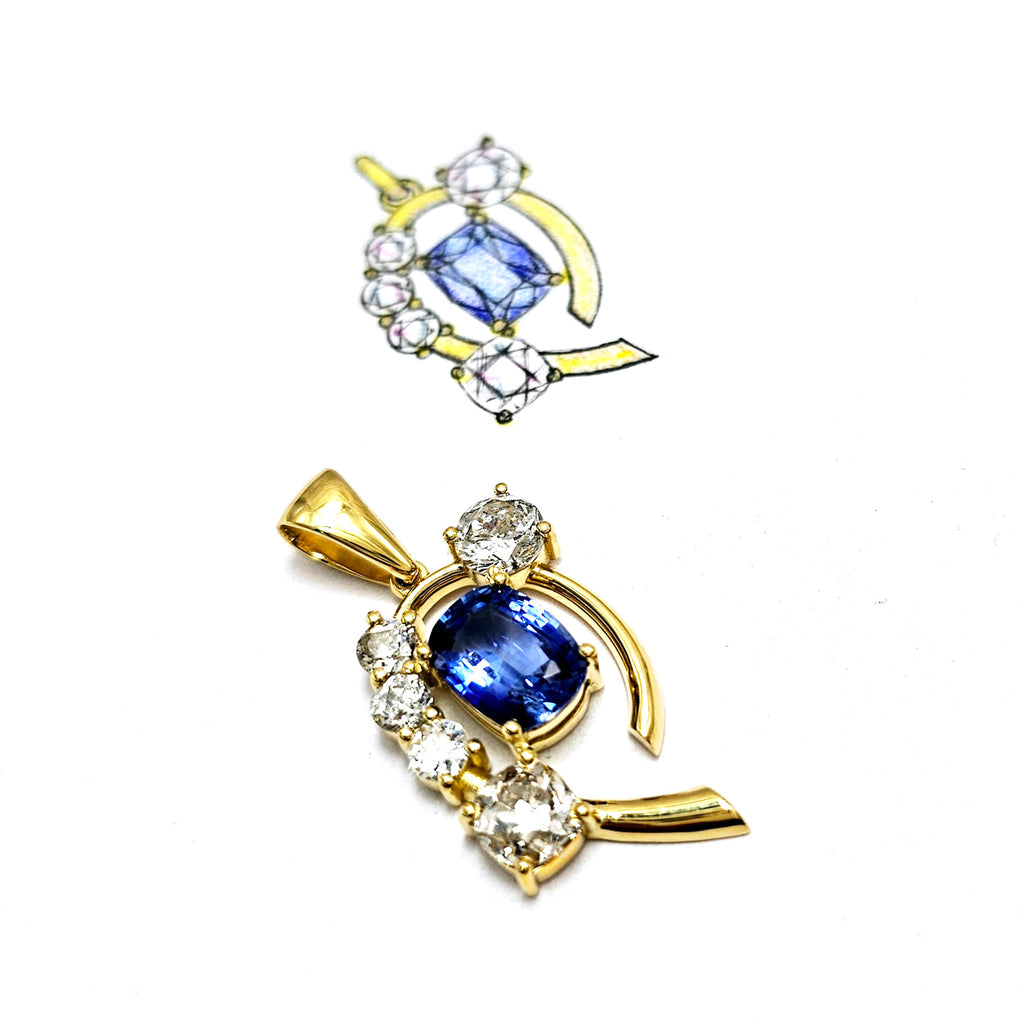 Here at Warrenders we are firm believers that fine jewellery is there to be worn! Of course some pieces work a little harder than others, but no treasure should be destined to a life collecting dust at the bottom of the jewellery box.

If you have pieces in your collection which are just not your style, or maybe no longer comfortable, we can help. Our award-winning team are experts in transforming inherited or unworn jewellery into beautiful pieces to be treasured for years to come. From gently adapting a much-loved piece for a better fit, to completely reimagining unworn jewellery into a brand new design, we are experts in making your jewellery work for you.

Keep reading for a glimpse at some of the remodelled jewellery creations we have worked on recently.
~
This beautiful pendant was designed and created using diamonds from two of our customer's existing rings, along with a gorgeous blue sapphire we sourced. We are pleased to say she was absolutely over the moon with her Warrenders creation:
"From the very start with the initial design, suggestions and advice, the service has been exceptional. I am delighted with the finished pendant and want to give special thanks to Gemma for all her help."
~
Created from a brooch our customer didn't wear, we carefully adapted the fastening without making any changes to the beautiful design, transforming the piece into this stunning pendant.
In celebration of our customer's diamond wedding anniversary, we reimagined an inherited solitaire ring into this jaw dropping design, fit for 60 years of love. Featuring a nod to our customer's original aquamarine engagement ring, the piece showcases the inherited diamond at its heart, beautifully supported by gleaming platinum and diamond encrusted shoulders.
~
These beautiful bracelets were created for our dear customer and hold a tender story of family love.
From a gold cigarette case inherited from her grandfather, our customer asked us to create gold trilogy links to represent herself, her sister and her brother who had sadly passed away.
Some of the trilogy links we made were turned into a beautiful pair of matching bracelets, one for her and one a gift for her sister who was recently married. On the wedding day the sisters swapped their identical bracelets to form the bride's 'something borrowed' and also provide a loving tribute to their brother.
~
We remodelled this diamond ring into something more our customer's style. Keen to keep the original mount for a future project, we carefully unset the two beautiful diamonds and used them in this modern, asymmetric design.
    
If you are interested in remodelling jewellery you no longer wear or would like to commission a new piece, please do get in touch on 020 8643 4381 and our team will be happy to help you.