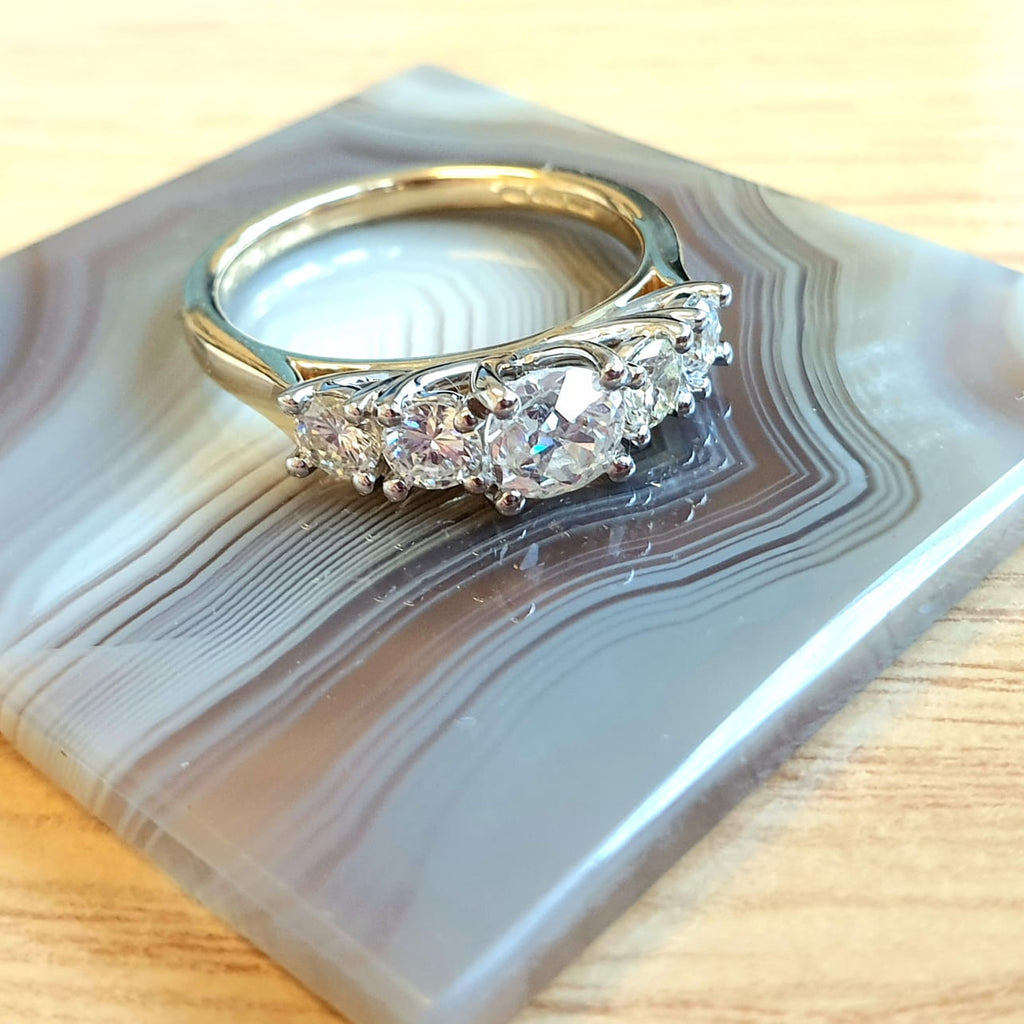 Customer stories on remodelling, redesigning and repurposing jewellery.
We all have them…pieces of jewellery we are attached to but never wear or no longer take pleasure in wearing.
We firmly believe all jewellery deserves to be treasured, loved and most importantly worn!
Our remodelling service is growing in popularity as customers look to create something modern and wearable reusing the materials of the original pieces as inspiration for something new.
Here are some of our recent recreations we have worked on with our clients:
It's all in the detail
With their Ruby Wedding Anniversary approaching, our client decided that rather than investing in a new item of jewellery to mark the occasion, she wanted to create a single modern ring from her original diamond engagement ring and eternity ring (pictured below).
Eight weeks after their initial consultation with our Store Manager John, the couple came to collect their stunning new piece of jewellery, which features five of the six diamonds from the original rings.
What did we do with the sixth diamond? We placed it in her husband's ring before giving the ring a full clean and polish.
Adding The Extra Wow Factor
A simple alteration to a piece of jewellery can ensure it retains its sentimental value while creating something more in keeping with current styles. This was the case for our client who was looking to change the look of her classic gold single solitaire engagement ring which she had been wearing for the past 30 years. We reset her diamond in a platinum mount with sparkling diamond shoulders to add that extra wow factor.
If only we could show you the pure joy on her face when she came to collect her restyled and updated engagement ring. These were her words as she tried it on:
"I'm absolutely over the moon! I can't stop looking at it. It's like when you first get engaged."
This special treat was designed and created by our team and delivered on time for her 30th wedding anniversary, just six weeks after initially coming into see us.
Keeping loved ones close
Making the decision to update a sentimental piece of jewellery can be emotional but you are in safe hands with our team. We take as much pride and care in drawing up the designs and creating the new item of jewellery as we do listening to our customers and understanding the story and sentiment which is attached to their treasures. 
Which leads us to our final customer story and one of the most special, yet simple creations we have made to keep a loved one close.
Our client didn't want her late husband's wedding band to languish in her jewellery box. Using the band, we created a beautiful pair of earrings that are perfect for wearing every day and still carry the hallmark from the year they married.
We hope you've enjoyed reading about how we work with our customers as part of our remodelling service.
This is just a selection of the bespoke, remodelling work we have undertaken. 
If you would like to talk to us about redesigning a piece of treasured jewellery you currently wear or have inherited but does not suit your style or personality we would love to help you.
Simply visit us in store or call 020 8643 4381 for an initial phone consultation.