Warrender's look back at some special Engagement stories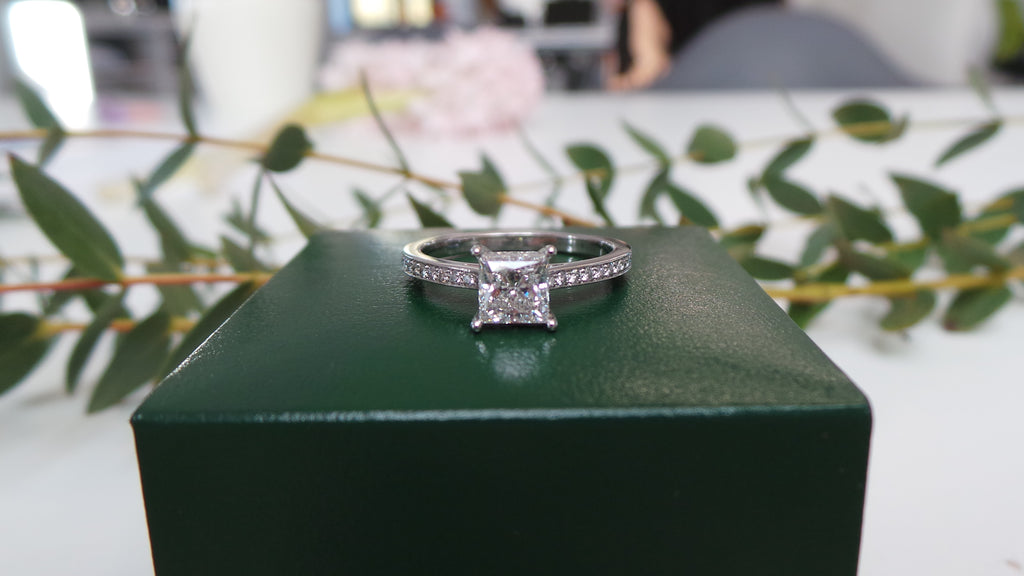 We love to hear about our customers' special engagement stories and are delighted to be able to help them to get to that unforgettable 'I Do!' moment. 
Here, our Sales Assistant Jennifer, talks about some of the most memorable proposal stories she has heard during her time at Warrenders: 
"One of the absolute favourite parts of my job is hearing about the planning and thought that goes into making that special moment when someone 'pops the question' as magical and unique to that couple as possible. I'm an old fashioned romantic and I never get bored of hearing these stories. I get so excited knowing that someone I have helped choose a ring for this specific purpose is going to make someone's whole world complete in a single instant. 
Happy Families 
While purchasing an engagement ring a few weeks ago, one customer told us how he planned to get their young baby to help out with the proposal! He had ordered a special babygro that was printed with "Mummy, will you please marry my Daddy?" that she would discover when changing the baby. This worked out perfectly, and upon reading the words she turned around shocked to see her partner down on one knee holding out the ring. 
I loved hearing a couple telling me of their African Safari engagement while they were in choosing wedding rings together. They were floating along in a hot air balloon on the holiday of a lifetime along with some other tourists, looking at some incredible creatures such as lions, giraffes and elephants during a safari tour. The gentleman then dropped down on bended knee and asked the love of his life if she would marry him. All the other passengers were gasping and taking pictures whilst the lady in question was so captivated by the stunning view over the side of the basket that she missed the even more exciting moment happening behind her! When she finally realised it was all such a wonderful shock. The other tourists must have all felt very privileged to witness it. 
Under the Sea 
A recent customer told me how her proposal happened while training to become a diving instructor. In a stunning location her future husband produced an underwater sign that read 'WILL YOU MARRY ME?' all she could do was nod as a beautiful school of fish passed. 
The couple came to us to have a bespoke wedding ring designed with a personal twist of a subtle wave design incorporated into the band to represent their unforgettable 'I Do' moment. 
Dinner in Paris 
I recently experienced my own engagement moment too and of course I chose Warrenders for my jewellery! A year earlier my partner was going for an interview and I did everything I could to help, putting in hours of preparation, quizzing and research. I always joked that if he got the job he could pay me back with a trip to Paris! A year on, having secured the job, he whisked me away on a surprise birthday treat to the French capital where I was treated like a princess. 
After a long day on our feet sightseeing we took a rest on a bench in a deserted park, suddenly he dropped down on one knee and produced the most perfect diamond engagement ring I have ever seen! I was so busy repeating "Ohmygoshohmygoshohmygosh!" that it took me a while before the shock wore off enough for me to say yes and for him to put the ring on my finger. It was at this very moment that the sky lit up with a spectacular light show projected from the Eiffel Tower. 
Getting engaged is such a big deal. It's a story you'll be retelling in years to come and is not about putting on a big show or spending lots of money. It's just about two people that mean everything to one another. I feel so honoured to play a small role in these special moments by helping customers to find that dream ring that they will treasure for a lifetime."