Win £1,000 to spend with us!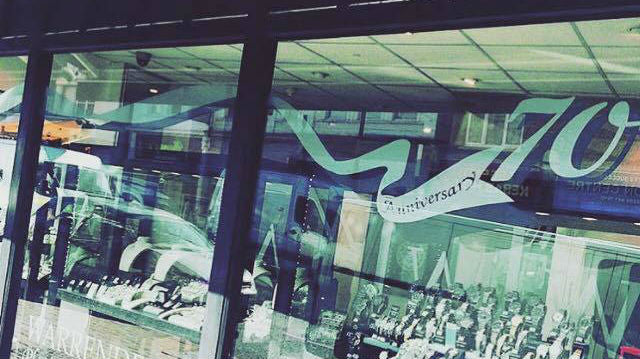 To mark our 70th anniversary, we are running an in-store prize draw giving one lucky customer the chance to win £1,000 to spend with us.
All you need to do is spend £100 or more in our shop* and you will be automatically entered into the prize draw. 
The draw ends November 2017 and the winner will be announced shortly after. Visit us to find out more or browse online for some shopping inspiration!
*Terms and conditions apply. Ask in store for details. 
Terms and Conditions
The Terms and Conditions include but are not limited to the following…..
1. Customers making a purchase of any stock item/s or special order over £100 from Warrenders Jewellers in a single transaction will be entered into the prize draw.
2. The promotion does not include services, such as repairs or valuations etc.
3. Contact details are to be left at time of purchase.
4. Entrants are entitled to one entry per transaction over £100.
5. Subsequent purchases meeting the required criteria may also be entered into the draw.
6. Warrenders reserve the right to refuse or withdraw the promotion at any time. 7. No cash alternative is available.
8. Employees, associates, family or friends of Warrenders are not permitted to make use of this promotion.
9. The promotion is offered solely at the discretion of Warrenders, its directors and store manager.
10. Any queries or complaints regarding the promotion should be made in writing and addressed Warrenders, 4 Cheam Road, Sutton, Surrey SM1 1SR.
11. Only applies to items purchased in store (not applicable to online purchases.)
12. Winner will be notified by phone or email and invited to attend Warrenders prize draw presentation – Thursday 7th December 2017 (date may be subject to change).
13. Prizes are non-transferrable, can only be redeemed at Warrenders and cannot be used in conjunction with any offer, discount or sale items.
14. The winner's name and photograph may be displayed on the website and any related public relations material
15. Any personal data relating to the winner will be used solely in accordance with the UK's current data protection legislation and will not be disclosed to a third party without the entrant's prior consent.