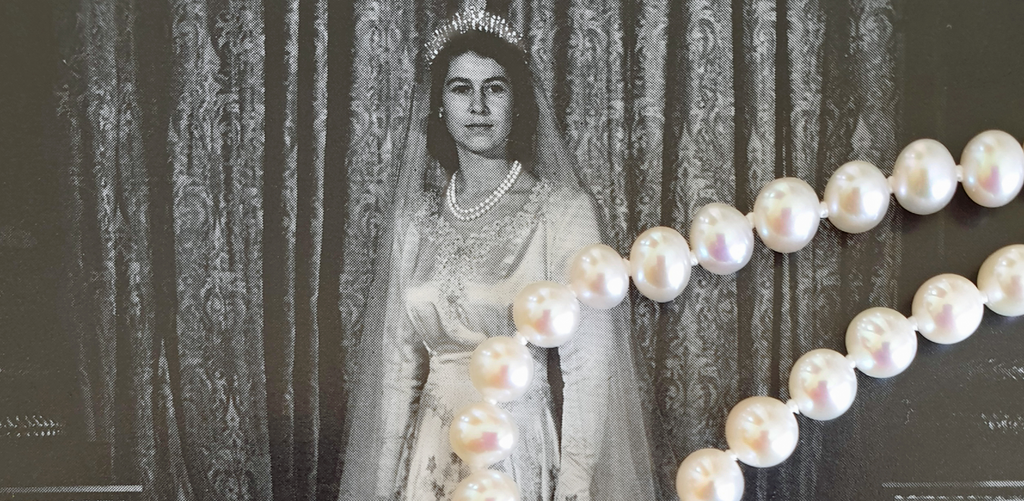 Over the decades Her Majesty Queen Elizabeth II carved a name as a fashion icon in her own right and this had much to do with her incredible array of jewels.
To celebrate our Queen and her timeless style we have taken a look back at some of her most
 iconic jewellery moments
...
Coronation Necklace
The Queen's coronation necklace was left to her by Queen Victoria. 25 huge diamonds totalling 161 carats make up the collarette with a detachable 22.48 carat pear cut Lahore Diamond worn at the centre.
Olympic Earrings
These diamond cluster earrings once belonged to Queen Mary, and were worn by the Queen when she appeared with James Bond at the opening ceremony of the 2012 London Olympics.
Majestic Brooches
Our beloved monarch had an impressive collection of brooches. The flower basket brooch worn in this photograph was a gift from her parents to mark the birth of Prince Charles.   
Signature of a Sovereign
The beautiful pearl necklace worn in the picture became one of Her Majesty's signature pieces of jewellery.
She was gifted the two-row pearl necklace by her father on her wedding day and made a last minute decision to wear them for the ceremony. With just 30 minutes to spare, her private secretary guard fought through the crowds to retrieve the pearls from St James's Palace. Luckily he made it back with them just in time and of course the bride looked flawless.
A Royal Love Story
The diamonds in the Queen's engagement ring were taken from a tiara that once belonged to Prince Phillip's mother, Princess Andrew of Greece. The Prince was heavily involved with the design of the ring and of a bracelet created from the remaining diamonds which he presented to his bride as a wedding gift.